Mary O'Connell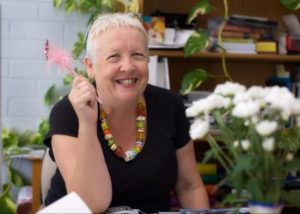 I am a Taranaki born, Sydney based writer, editor, historian and community arts organiser, with particular interest in matters of spirit.
My most recent book is The Country of Our Dreams – a novel set in 19th century Ireland and 21st century Australia, exploring the Irish Land War of 1879 -1882, the complex inheritance of the Irish diaspora, the luminous almost Christological figure of Michael Davitt, and the historically obscured figures of Anna Parnell and the marvellous and courageous Ladies Land League. The novel also explores the lives of the 21stC descendants, the Ryans of Coogee as they deal, like so many Irish Australians, with their complex inheritance. See here for more info and for some amazing reviews,
You can order 'The Country of Our Dreams' from Amazon, Book Depository or Booktopia, or if you are in Sydney, visit the fabulous Gleebooks at Glebe,  the marvellous Harry Hartog's of Bondi Junction, or the excellent UNSW Bookshop on campus.
I am currently working on a historical novel set in 18th century Dublin – which is about the first performance of Handel's Messiah. Working title is 'Handel and Mrs Cibber,' and while it's about many things, including the glorious collectivity of the theatrical arts, Dublin's eager embrace (sometimes over eager!) of the musical giant of his age, the unexpected disruptions and transformations,  it is the subtle relationship between a gifted feted man and a gifted but publicly shamed woman which lies at the core of it.  The heart of it.
My other books include an historical novel about the twelfth century mystic and musician Hildegard of Bingen. The King's Daughter was reviewed by the Sydney Morning Herald as 'Here is surprise, delight and instruction in skillfully blended harmony. Mary O'Connell has brought off the feat of recreating an entire society triumphantly. The achievement is extraordinary. … This is a delight, and, I'm prepared to bet, unlike anything you have read before.'
My PhD explored the amazing story of the young Irish Australian mystic, Eileen O'Connor (1892-1921). Published as Our Lady of Coogee by Crossing Press in 2009, it was described by Professor Alison Bashford, Chair of Australian Studies at Harvard University as 'a substantive social and interior history – of romance, conflict, love, sacrifice and pain. This is a work of extraordinary literary as well as intellectual skill.' Eileen is now on track to become Australia's second saint!
I wrote the History of the UNSW School of Civil & Environmental Engineering, to celebrate its sixtieth birthday in 2009. I had a lot of fun with alumni memories, and staff achievements, and I learnt a lot about this mainly masculine art, (yes, things are changing! 25% female enrolments in 2019!). In that learning, I began to have much more respect for the material world, and the people who dedicate their working lives to making sure we live in a safe, ordered, clean world. See here for a sample chapter.
Since then I have told many stories of the  hardworking, gifted, humble (okay not always!) civil and environmental engineers who work ceaselessly for clean water for everyone, safe and sustainable buildings, better coastal and urban management,  and a way out of the madness of the roads. Actually they're still looking for that last one… I suspect the answer does not lie in more roads (duh!)
I'd love to do more work on exploring the wonder-full Brigid stories  both medieval and modern –  pondering why and how this particular divine feminine archetype  is so powerful (and useful) within us Irish communities.
I entertained myself with producing calendars in 2015 and 2016 which were photographic and poetic celebrations of Sydney's ocean pools – working with the talented photographer Mike Gal and designer Helena Brusic.
I am a happy member of the Randwick Community Organic Garden and I served as the Festival Director for the innovative Heaven & Earth Writers Festival – a biennial Sydney Festival devoted to celebrating works and words on the integrated themes of arts, environment and spirit matters.
I am also a proud member of the Australian Women's History Network,  the Irish Studies Association of Australia & New Zealand (ISAANZ),  and the Randwick and Coogee Ladies Swimming Club.
I am interested in family, social and personal histories which do more than record facts or conflicts, but seek to honour the good that people are and do. I also love a good romance and the hero/ine's journeys of our courageous ancestors.
For helping you start, restart and most importantly finish your story -see my Story Matters Services .
Beloved, gaze in thine own heart
The holy tree is growing there.
WB Yeats