28 July
Coogee mid winter – sorry to boast!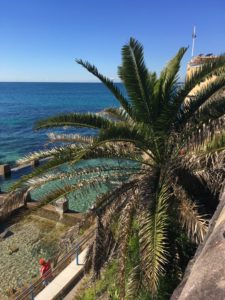 27 July 2017
Each night the untethered, already travelling mind seeks new ways to engage and annoy the sleeper!
Last night: how to get to Carraroe from Clifden ? Do they have a plaque there to commemorate the first successful battle of the Land War? After all the 'Battle of Carraroe' in January 1880 marked one of the first sustained collective resistances of the rural poor to eviction – claimed by Michael Davitt and others as one of the first major successes of the Land War.
Another question arises in the night: is the Ladies Reading Room – described so lovingly by Katharine Tynan in her memoir Twenty-Five Years – still there in Leinster House?
Posted: June 17, 2017
I'm giving a paper in Dublin in August (2017) at the Global Irish Diaspora Congress  on how the Irish Land War of 1879 – 1882 was really a Global Irish War – involving the diaspora emotionally, spiritually, politically and of course financially!  In fact the Land War could not have been won without the diaspora.
This is research and knowledge gained from writing my latest novel … I am really thrilled to be able to share it within another genre!
This is a clipping from the Sydney Illustrated News of 1880  – sharing my opinion.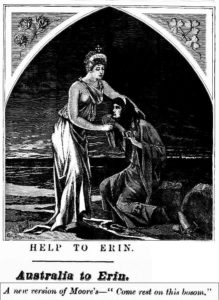 It's also interesting in that the NSW goddess is having a wardrobe malfunction.
Posted: 6 June 2017
If I tell everyone there is a better chance I might actually do it!
In September (2017) I am thinking of doing a Famine pilgrimage (yes, walking!) from Michael Davitt's birthplace Straide in Co Mayo – where he and his family were evicted in 1850 to the old workhouse in Swinford, about 15kms away.  They didn't actually stay there – his mother Catherine refused to be separated from her young son (they were separating men from women)and so they walked out again – to face the uncertainties of the open road. She was a bravewoman, Catherine Davitt. We owe her a lot.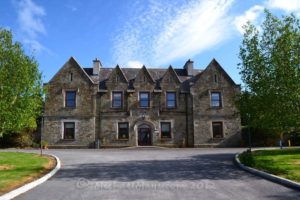 It looks like the good people of Swinford are working hard to commemorate this place of suffering – as a reminder of the continuing need for economic and social justice.