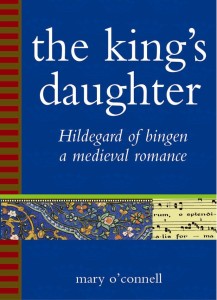 Spring 1148
In a damp, obscure monastery in the Rhineland, a frail woman lies silent and utterly still upon her sickbed.  She has been refused permission by her Abbot to leave the monastery and establish her own community. But Hildegard's book of divine visions also lies silent, and incomplete.
 Travelling reluctantly towards the Abbey is Henry, the worldly and charismatic Archbishop of Mainz, charged with the mission of saving the much desired work of revelations. His is a journey spiralling inwards to the place where the prophet lies, apparently silenced and crushed, but spiritually powerful still…
This historical novel about the medieval mystic, musician, healer and troublesome woman -Hildegard of Bingen –  is set within the 12th century European Renaissance, a time of cultural change, uncertainty and creativity. Rebellions in Rome, violent power struggles between feudal lords, an ill-judged Western invasion of the Holy Land contrast with continuing spiritual and economic renewal in Europe. This is the time of the great cathedrals, the first universities, the revival of the cities, the art of the courtly poets, and the flowering of monastic culture.